Hi,
I recently noticed that some of my themes were not applied properly in the main view (overview). I have picked all the themes from this forum without any modification and they used to work fine. Oddly, when I change the theme, it seems to be applied properly in the configuration, developer tools, profile, logbook, etc. pages, but not in the main view (lovelace interface). Refreshing, restarting, clearing cache does not change anything.
For instance, here is a screenshot of my interface with the "slate" theme :
and here is what it should look like :
Slate - A New Dark Theme (Updated!)
, with a dark grey background for tiles and white font.
Another example with summer breeze: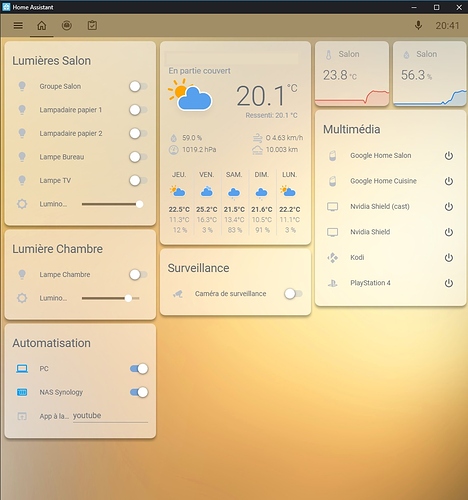 The tiles background is too whitish and the font should be darker for better readability. Here is the page from where I took the theme :
Summer breeze
Have there been breaking changes with themes in a recent update of Hassio ? Just for information, I have installed HACS recently.
Have you seen this issue before ?
Thanks for your help!