Some time in the past few days, the way my Honeywell thermostat displays on the front end has changed.
It used to show green, filled in under the temperature bar, whenever the thermostat called for cooling. Likewise, in the winter it was filled in red. In other words, alternating bands of green and white would show as the cooling cycled on and off to maintain the temperature.
Now, as soon as I switch on cooling mode at the thermostat, the green fill is displayed, but that no longer changes when the cooling cycles off. It appears that it's just showing that the system is in cooling MODE, not that it's actively cooling.
This seems sort of useless: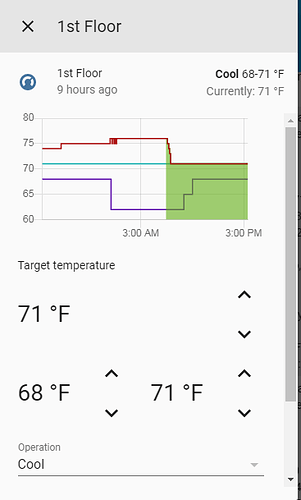 I notice some other changes with this climate entity. I think there used to be only one "target_temp." Now there's one for "_high" and "_low." I'm not clear on whether it was the Honeywell server which changed, the entity in HA, or something else.
Any ideas how to get back an indication as to when the cooling (and heating) are actually active?