This add-on is provided by the
Community Hass.io Add-ons
project.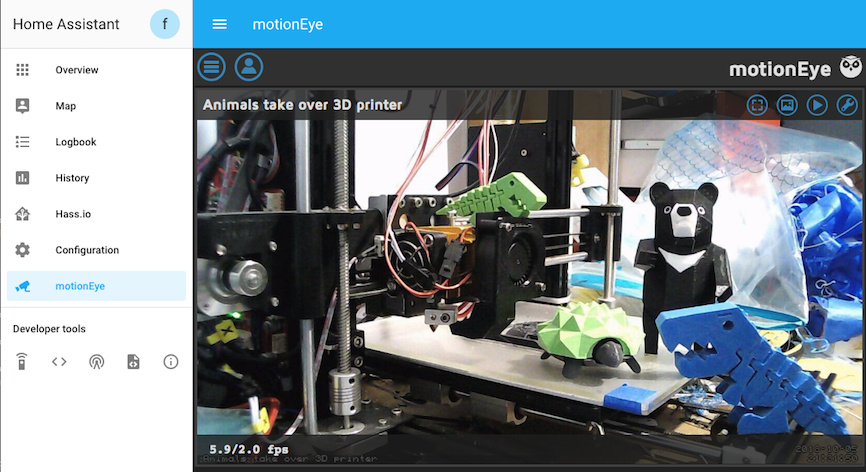 About
---
motionEye is a popular frontend to the camera software called motion. This add-on provides both, allowing you to add your camera's to your Hass.io setup.
motionEye is Open Source CCTV and NVR, that is elegant and really easy to use. It can be used as a Baby Monitor, Construction Site Montage Viewer, Store Camera DVR, Garden Security, and much more.
Some cool features of motionEye:
Support for a ridiculous amount of cameras, including IP cams.
Add multiple cameras by hooking up multiple motionEye instances together. For example, by using MotionEyeOS on a Pi Zero + Pi camera in your network.
Supports uploading recording into Google Drive and Dropbox.
motion detection, including email notification and scheduling.
Can record continuously, motion, or timelapse, with retention settings.
Installation
---
The installation of this add-on is pretty straightforward and not different in comparison to installing any other Hass.io add-on.
Add our Hass.io add-ons repository to your Hass.io instance.
Add the following URL: https://github.com/hassio-addons/repository
Install the "motionEye" add-on.
Start the "motionEye" add-on
Check the logs of the "motionEye" add-on to see if everything went well.
Click the "OPEN WEB UI" button to open the web interface
Login with username "admin", without a password.
Edit you admin account with a secure password!
Support
---
You can always try to get support from the community here at the Home Assistant community forums, join the conversation!
Questions? You have several options to get them answered:
You could also open an issue on GitHub, in case you ran into a bug, or maybe you have an idea on improving the addon:
At this moment our Community Hass.io Add-ons Discord chat server and GitHub are our only official support channels. All others rely on community effort.
Repository on GitHub
---
Looking for more add-ons?
---
The primary goal of our add-ons project is to provide you (as an Hassio / Home Assistant user) with additional, high quality, add-ons that allow you to take your automated home to the next level.
Check out some of our other add-ons in our Community Hass.io Add-ons project.